Removal of restrictions boosts footfall: is your town ready?
With footfall expected to rise, the need to regenerate, repurpose and enliven town centres is keenly felt by Local Authorities, commercial property owners and retailers, looking to capitalise on the projected resurgence, writes Esther Worboys, Activate Placemaking Manager and High Streets Task Force Expert.
Retail sales enjoyed a springtime resurgence, with growth in high street sales from April to June making it the best three months on record. Sales were up 28.4% from a year earlier and were 10.4% higher than in 2019, according to the British Retail Consortium, buoyed by June's sunny weather, the Euro 2020 tournament and the vaccination programme.
PM Boris Johnson's removal of restrictions on 19 July delivered a further boost to retail. And the latest forecast shows footfall in non-food retail stores will continue to strengthen over summer in the UK, reaching almost three quarters (74.5%) of its 2019 level in Q3 2021. The figures, from Ipsos Retail Traffic Index, show that recovery was strong over Q2.
The rapid rollout of vaccinations, steps that property managers and retailers have put in place to safeguard their customers and colleagues, a release of pent-up demand, and consumers spending household savings from the past year, have all contributed to retail rallying during April, May and into June, say Ipsos retail analysts.
Acknowledging that shoppers will continue to use both online and physical shopping channels, analysts highlighted the return of consumer appetite for shopping as a leisure activity. Dr Tim Denison, head of retail analytics and insight at Ipsos, said: "Consumer confidence continues to re-build, now standing at its highest level since the first lockdown, employment levels remain buoyant, and Britain is rediscovering its fondness for one of its most popular social pastimes."
Now more than ever, the need to regenerate, repurpose and enliven town centres is keenly felt by Local Authorities, commercial property owners and retailers, as they look to capitalise on the projected resurgence towards in-person experiences including recreational shopping.
Local authorities are taking an active role in the repositioning of town centre environments, with collaboration between the public and private sector increasingly proving a force for positive change. The ultimate needs of town centre and high street users should inform thinking at the centre of planning, design, and management, and build positive relationships with local stakeholders. This creates a sense of belonging and establishes the location's role in the community.
Activate expertise to rejuvenate public spaces and deliver footfall boost
Activate works closely with local authorities and public-private partnerships to provide placemaking consultancy advice as part of a variety of town regeneration projects. By researching the demographics of an area, engaging with stakeholders such as local businesses, residents' groups, and with market traders, their evaluations form the basis of a target retail mix. The Activate team collaborates to provide potential layout and design of any future schemes, supported by financial projections.
Based on local research and insight, the Activate placemaking team provides concepts, feasibility advice, and detailed business planning for local authorities for their regeneration options. Typical projects include master-planning of town centre mixed-use schemes, the feasibility analysis of town centre market re-locations and concepts for the re-purposing of vacant commercial space.
The High Street Task Force expert view
Where there is scope for achieving unfulfilled potential in town centres and high streets, Activate is well-placed to offer key advice, drawing from the team's broad experience, which includes insight gained through my role as a High Street Task Force expert.
In this role, High Street Task Force experts visit targeted town centres and high streets, where they work with community leaders to identify key issues hampering successful transformation, and ways to address these. Experts also consult with local authorities and stakeholders to help solve complex challenges, which may also include running workshops and brokering relationships within the local community.
The idea is to unlock the resource that already exists in the town, using a fresh perspective to break down barriers in order to implement the project, while also leveraging a wider base of skills and understanding garnered from experience on projects rolled out in towns across the country. It's about facilitating efforts between stakeholders such as business leaders, the local authority and community groups; so they can overcome past hurdles to move forward and deliver their own local solutions that are right for their town.
Carefully created and managed partnerships, where lessons learned are used to create added value for town centres and high streets, can deliver social and economic outcomes, not just real estate development. As the Activate team demonstrates, when local government and the private sector work in collaboration, with guidance from placemaking experts, the results lead to places that people can be proud of.
Levelling-up towns across the regions
This contemporary approach to partnering is good for the economic and social vibrancy of towns, and plays into the government's levelling-up agenda, which seeks to improve skills, create jobs, enhance townscapes, improve access to public services, and increase local decision-making responsibilities.
The Activate team is also collaborating with Scotland's Towns Partnership, enabling Local Authorities to work in partnership with town centre property owners to access available funding, of which they may previously have been unaware. Making progress towards levelling up is about removing regional inequities and finding suitable pathways for everybody.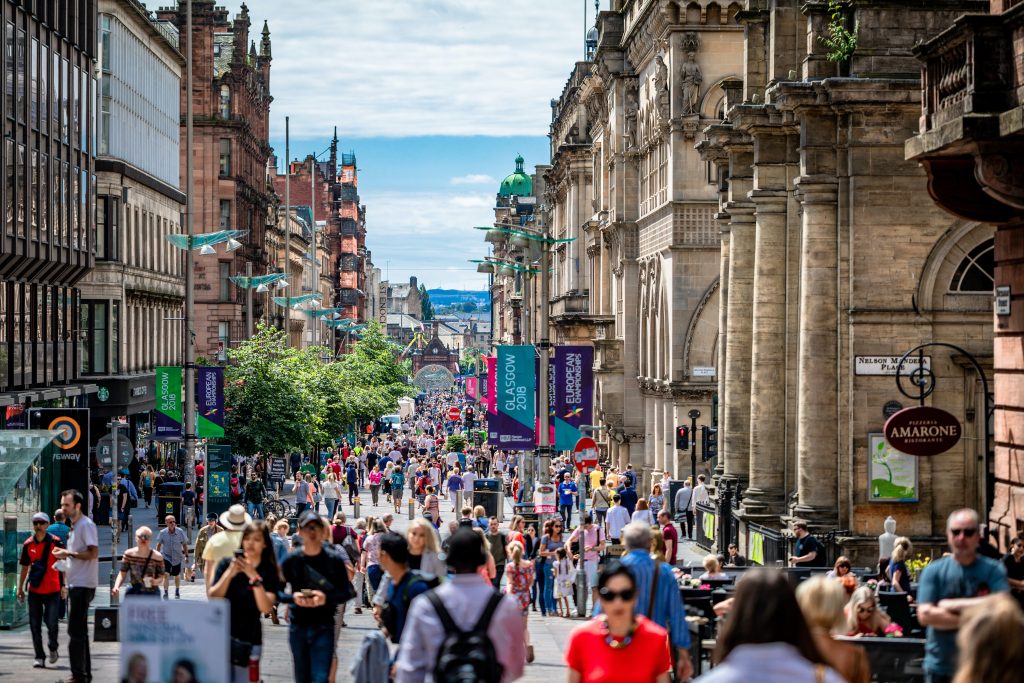 Of course, simply agreeing a public-private partnership doesn't guarantee a successful outcome. For these collaborations to work, they rely on strong leadership, a clear vision, quality and continuity of teams. There is a clear requirement for a bedrock of thorough research and preparation, and trust between partners.
It seems that significant challenges including the pandemic, Brexit and climate change have not stifled enthusiasm for town centre regeneration. The rise of localism proves that people want to feel safe in – and proud of – the places where they live, work, play, study, do business, and shop.
In fact, there is a growing appetite to bolster local infrastructure so that towns are resilient enough to withstand further economic, environmental, and social challenges that may be just over the horizon.
By Esther Worboys, Activate Placemaking Manager and High Streets Task Force Expert.